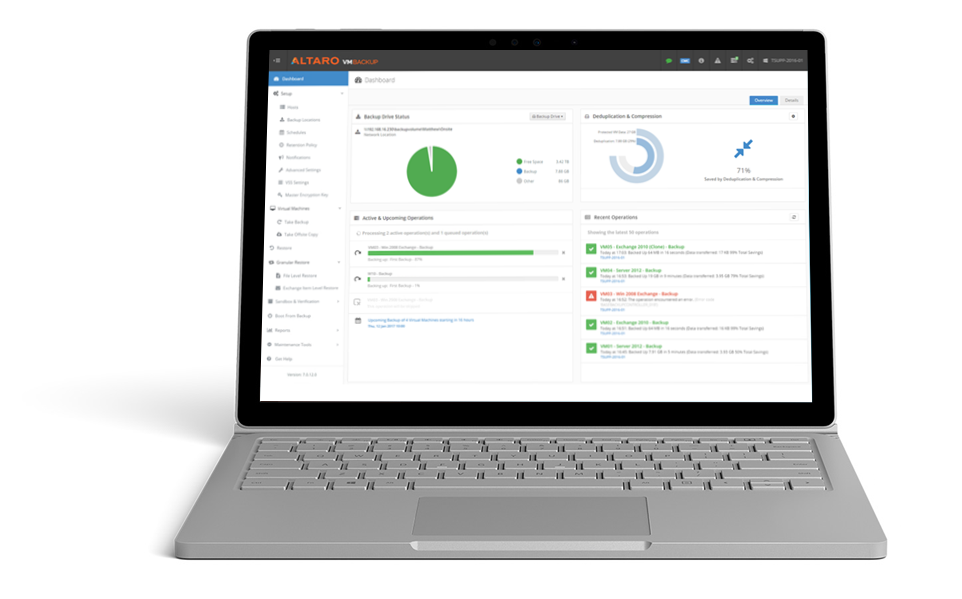 Altaro VM Backup is a fast, high performance backup and replication solution for Hyper-V and VMware environments. Its intuitive UI makes it simple to implement your first virtual machine backup in less than 15 minutes.
Augmented inline deduplication speeds up backups and reduces storage requirements, making it ideal for small and mid-size businesses. The WAN-Optimized Replication functionality lets you make an ongoing copy of your virtual machines to remote sites and switch immediately to that copy should anything go wrong with the live VMs.
You don't need to be an expert or use any other software to create a reliable backup strategy.
Altaro VM Backup is available for VMware, Microsoft Hyper-V and Mixed Environments (Hyper-V and VMware). Its pricing and licensing is per host not per socket, making it a reliable backup solution at an affordable price.
Download a fully functional 30-day trial of Altaro VM Backup (Unlimited Plus Edition), or download the Free Edition for micro businesses for up to 2 VMs per host!