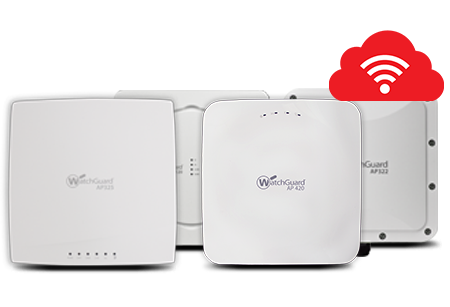 Wi-Fi is so commonplace that not offering it is becoming a detriment to many businesses around the UK. When it comes to offering Wi-Fi you need to make sure you are protecting yourself, your employees, your customers, and your sensitive business information. BromleyNet offers a variety of WatchGuard Secure Wi-Fi solutions, all of which provide the highest levels of security available on the market today. Whether you select the built-in Wi-Fi features of the WatchGuard tabletop network security appliances or choose to build a larger Wi-Fi network with our cloud-managed Access Points, BromleyNet has everything you need to deliver fast, safe, feature-rich Wi-Fi.
Built-in Wi-Fi – Ideal for small environments where the main use case will be for employees and business tasks, WatchGuard T15-W, T35-W, and T55-W tabletop network security appliances all come with Wi-Fi radios built in.
Cloud-Managed Wi-Fi – Ideal for larger environments, or locations where the use cases include guest W-Fi and Wi-Fi-based Point-of-Sale (POS) tasks, WatchGuard offers stand-alone Access Points that can also integrate directly with WatchGuard Firebox appliances to keep your Wi-Fi network safe.
Secure your WLAN from today's sophisticated, blended threats with WatchGuard's  AP125, AP325, AP420 and Outdoor AP322 wireless access points. By extending  best-in-class UTM security – including application control, intrusion prevention, URL and web content filtering, virus and spam blocking and more – from any XTM or Firebox appliance to the WLAN, businesses can harness the power of mobile devices without putting network assets at risk.
What's more, security policies can be applied to wired and WLAN resources simultaneously, which is critical to enforcing security standards across an entire network.
Call us today for the best WatchGuard Secure Wireless Deals available!
Phone : 03300 881115