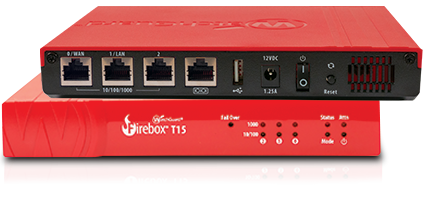 The WatchGuard Firebox T15 brings enterprise-grade security to the small and home office. Often seen as soft targets for attackers, small businesses and remote/branch office locations can now benefit from the best-in-class security services at an affordable price. With up to 90Mbps UTM throughput and more features than any other small form-factor UTM firewall the Firebox T15 is a security powerhouse in a small package.

Available with Standard Support, the Basic Security Suite or Total Security the T15 is ideal for small and home offices.

The WatchGuard T15 is also available with built-in wireless.